I absolutely fell in love with Olaf's Frozen Adventure, and as I'd been after getting Anna and Elsa dolls for a long time, I thought I'd check out what dolls of them were available for the film, especially as I loved their outfits in this short too. After much consideration, I decided to go for the big Singing Doll set from DisneyStore.co.uk as not only was it on offer for a really good price when I got it, it also came with Kristoff which was a huge draw for me as he is my favourite character. Plus, the extra accessories and figures looked really cute too! I didn't take any of my own photos of it in the box as it was just too huge for me to fit nicely into a picture so here is the picture from the Disney Store website to show you what it looks like:
I'll start by showing you the accessories that come with the set. First off, we have a lantern; the infamous fruit cake, a reindeer decoration and a candle wreath which can fit on Olaf's head like a crown. All of them are nice items, with great detail.
It also comes with the box that Elsa kept the Olaf cards that Anna gave her in, as well as three little replicas of some of the cards which are absolutely adorable. There is also the star that Elsa puts on top of the tree at the end, with the little Olaf doll inside; plus one of my favourite items which is Kristoff's model of Flemmingrad.
Of course, there is a lovely Olaf figure as well and he has his cute little bow that Elsa puts on him. The Olaf figure is slightly out of scale but it is a really nice figure and nicely detailed so I can forgive that. Finally, there is a of one of the kittens too which is absolutely adorable ❤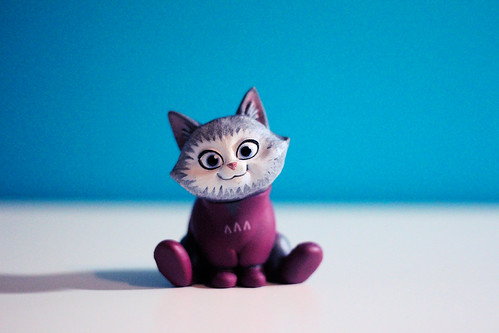 Also included is a small plush of Kristoff which is really beautiful and soft. He is a little front heavy so he is a bit tricky to stand but his detailing makes up for it. He has his collar on, and the blanket with the Arendelle bell on, plus the bell decorations in his antlers. He is scaled really nicely with the dolls too.
Moving onto the dolls, I'll start by showing you Anna. Her outfit is beautiful and sparkly, with lovely detailing; and her boots are just gorgeous. Her face mould and paintwork is really cute and captures her character really well. Her fringe is a little fuzzy but her hair is generally pretty nice. As with all the singing dolls, only one arm bends at the elbow (the arm that you use to make her sing does not bend) but her hands on both arms move well at the wrists. Her knees are the click bend type. To make her sing, you twist her hand; and she sings "Ring in the Season".
Moving on to Elsa, again her outfit is really pretty and detailed, and is sparkly like Anna's. The design on her cape is particularly beautiful, and her icy heels are made of a clearish plastic so they look more ice like. Her hair is really nice and her face mould is too. I would say one of her eyes is ever so slightly wonky but its not too bad and as long as you capture her from the right angle, its not very noticeable. Like Anna, only one arm bends at the elbow and she has the click bend knees. When you twist her hand, she sings "When We're Together".
Finally, we have my boy Kristoff ❤ His outfit is absolutely gorgeous, the details are lovely and I especially love his shiny shoes and tassels on his trousers. His legs look a little bowed in the photos but once I played with him a bit afterwards I was able to get them positioned a little better. His face is really nice and captures him really well. His arms both bend at the elbow and wrist and he has click bend knees. I have realised I forgot to show a picture of his Ukulele earlier but he does come with that too (and you can see it in one of the pictures below), however, he can't hold it which is a little disappointing. However, that is probably my only real complaint about the set so its not too bad and it certainly wouldn't put me off recommending it to you as a set.
On the whole, I am incredibly happy with the set. Its absolutely beautiful with some lovely details and it all feels well made. I would absolutely recommend it as a set, especially if you can get it on offer like I did. I was sad that I wasn't able to get the limited edition Anna and Elsa dolls but this is definitely a good substitute and the fact that it comes with Kristoff and all the other figures and accessories is a real plus point too. I'll be uploading a video review of the set to my YouTube channel soon so look out for that if you want to see them in more detail; but for now, I hope you'll enjoy a few bonus pictures below: